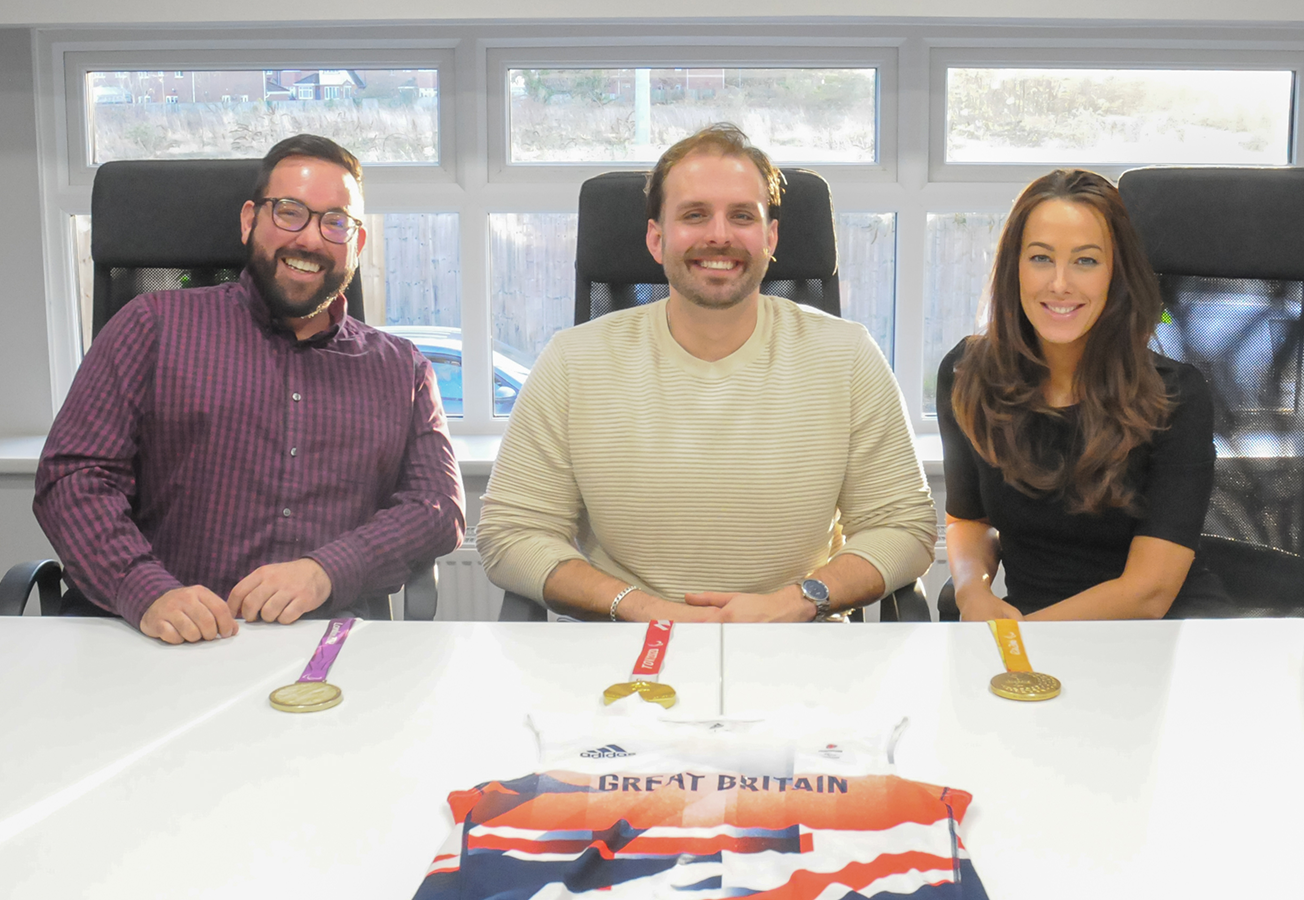 Aled Davies is now a household name in British sport and despite enjoying celebrity-like status and global media interest he continues to hold a burning desire to represent Great Britain at the highest level. The Bridgend-born athlete also has a remarkable, yet lesser known back-story involving Cardiff-based orthopaedic firms – Dacey Ltd and Orthotix. Both businesses have played an integral role in Aled's inspirational journey to date.
Aled's Journey with Dacey Ltd & Orthotix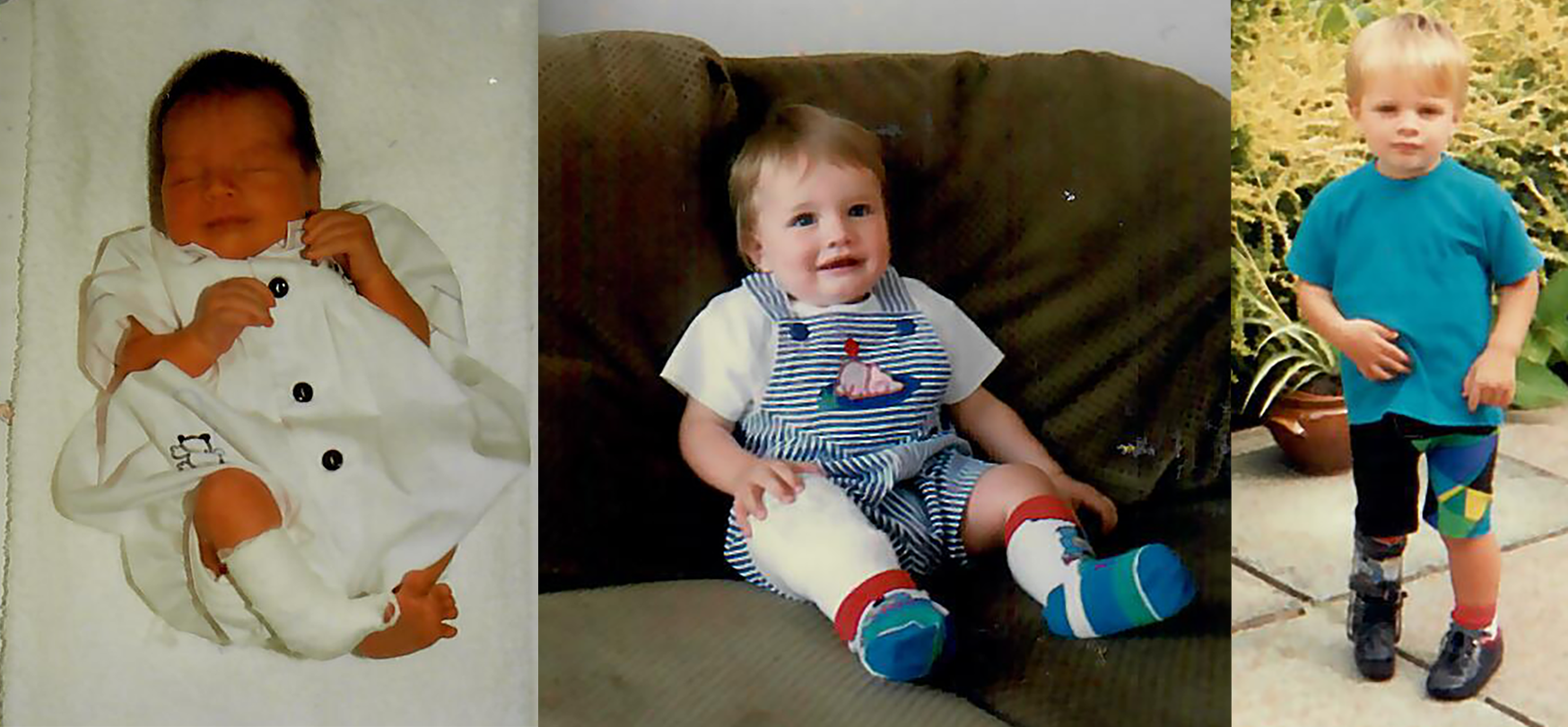 Aled was born with a congenital birth defect called Hemimelia
Aled was born in 1991 with Hemimelia of the right leg. This is a congential birth defect which typically affects singular limbs, presenting most commonly in legs, with changes or absence to either the Tibia or Fibular bones. As a result, Aled was wheelchair bound for the majority of his infancy and visited specialist Orthopaedic Consultants across the UK and Europe. Despite a multitude of medical investigations and pioneering surgeries, Aled maintained an unwavering positive attitude towards life.

A selection of Aled's Dacey Ltd protective casts from his early years.
When Aled had his protective casting removed from his affected leg at just 18 months old, a specialist healthcare professional known as an Orthotist was provided to his local hospital by Dacey Ltd to assess, measure and fit him with suitable orthotic devices. Initially, custom footwear, calipers, and bespoke Ankle Foot Orthoses (AFO) were all prescribed, before the AFO's were deemed the most appropriate way forward for Aled. These medical devices served to maintain his foot and ankle in a 90-degree neutral angle, promoting correct foot positioning, stabilising his ankle joint and lower leg, so that he had a stable base of support to mobilise on.
The experienced team of orthotic technicians operating out of the Dacey Ltd factory in Cardiff were then able to manufacture his bespoke devices as prescribed by the Orthotist. All of Aled's AFO's throughout his life have come from this remarkable Welsh business, which has now supported him in his early year development, every-day life and sporting ambitions.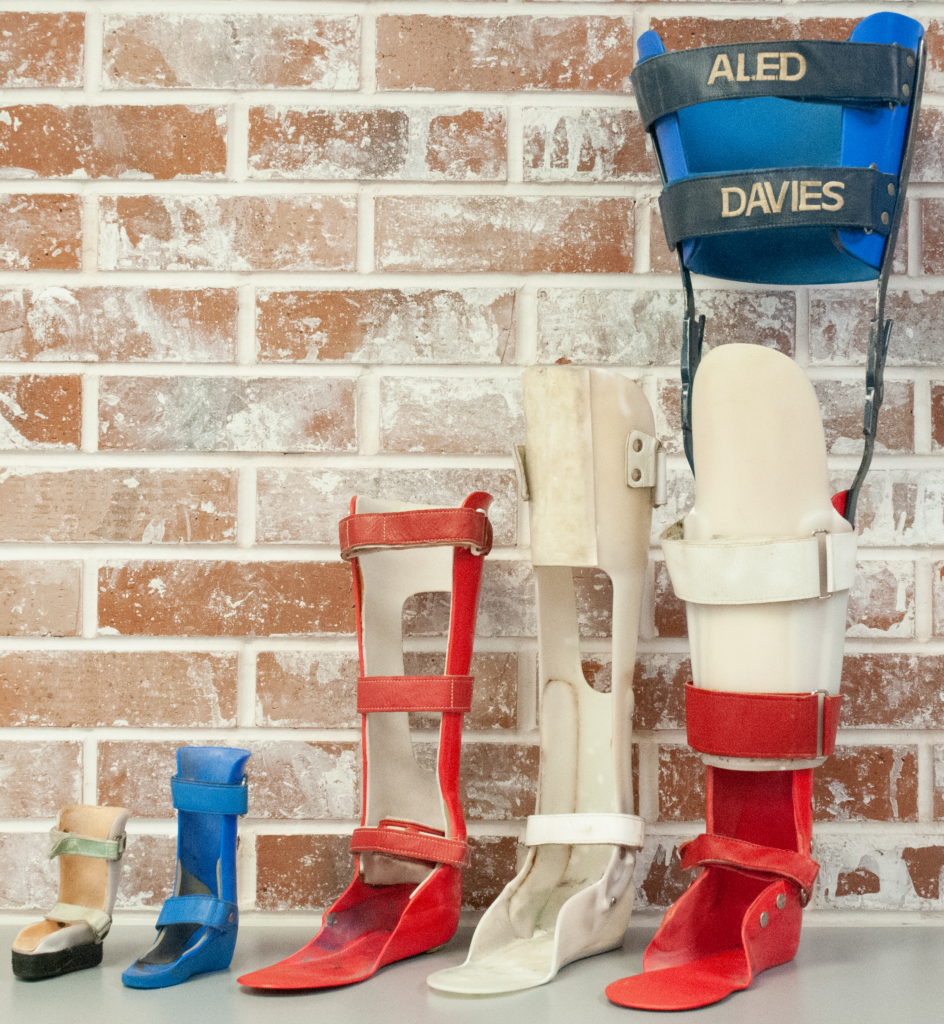 A selection of Aled's Ankle Foot Orthosis manufactured by Dacey Ltd & the KAFO developed by Orthotix that Aled used to win gold at London 2012
Aled spent a lot of time doing hydrotherapy in his early years, to help strengthen his affected limb. This led to him becoming a strong swimmer and ignited his competitive spark for the first time, swimming competitively against other para-swimmers and able bodied athletes.
In 2005, Aled attended an Athletics Talent I.D. event which tested and analysed athletes physical attributes to match with suitable events. Rowing and cycling were initially identified as the optimum events for Aled's attributes but he overlooked these to pursue track and field, in particular, the throwing events. A year later, Aled was scouted by Disability Sport Wales before going on to take Gold in the Disability World Championships in Taiwan, despite only being 16 years old. This result boosted Aled into the qualification rankings for the 2008 Beijing Paralympics but his young age meant he was not selected. Frustrated and upset, this omission served to motivate Aled to show the world his emerging ability.
To enable Aled to compete at his highest level, Orthotix and Dacey Ltd trialled various orthotic devices before settling on a Knee Ankle Foot Orthosis (KAFO). These are not only designed to stabilise and support the ankle and lower limb, but to also stabilise the knee joint. Incorporating steel side members and lockable knee joints, the brace could be unlocked to help with sitting, and crucially locked to fully immobilise the leg and allow for full dynamic weight transfer.
The ongoing development of a competition worthy throwing orthosis assisted Aled with consistent podium finishes throughout 2009, 2010 and 2011. In 2012, Aled found himself selected for the Great Britain team at the age of 21, and in 2013 he qualified for the Lyon World Championships, taking gold in Shot Put, breaking his first official adult record with a throw of 14.71 metres. This was the first of multiple records that Aled would go on to break using his innovative Orthotix designed and manufactured orthosis. He currently holds the world records in both F42 Shot Put: 17.52m and F42 Discus: 54.14m.
As a result of Aled's meteoric success and contribution to sport he was made a Member of the British Empire (MBE) in 2013. At the Rio Paralympic Games he also secured gold in the Shot Put, before notably going on to co-captain team GB at Tokyo 2020, where he successfully defended his title, claiming his third consecutive Paralympic gold. In doing so, Aled cemented his legacy as one of the most successful Paralympians of all time.
Aled has recently received further recognition for his outstanding contribution to Athletics and for being an exemplary role model in youth disability, being added to the Order of the British Empire (OBE) in the Queens New Year Honours celebrations.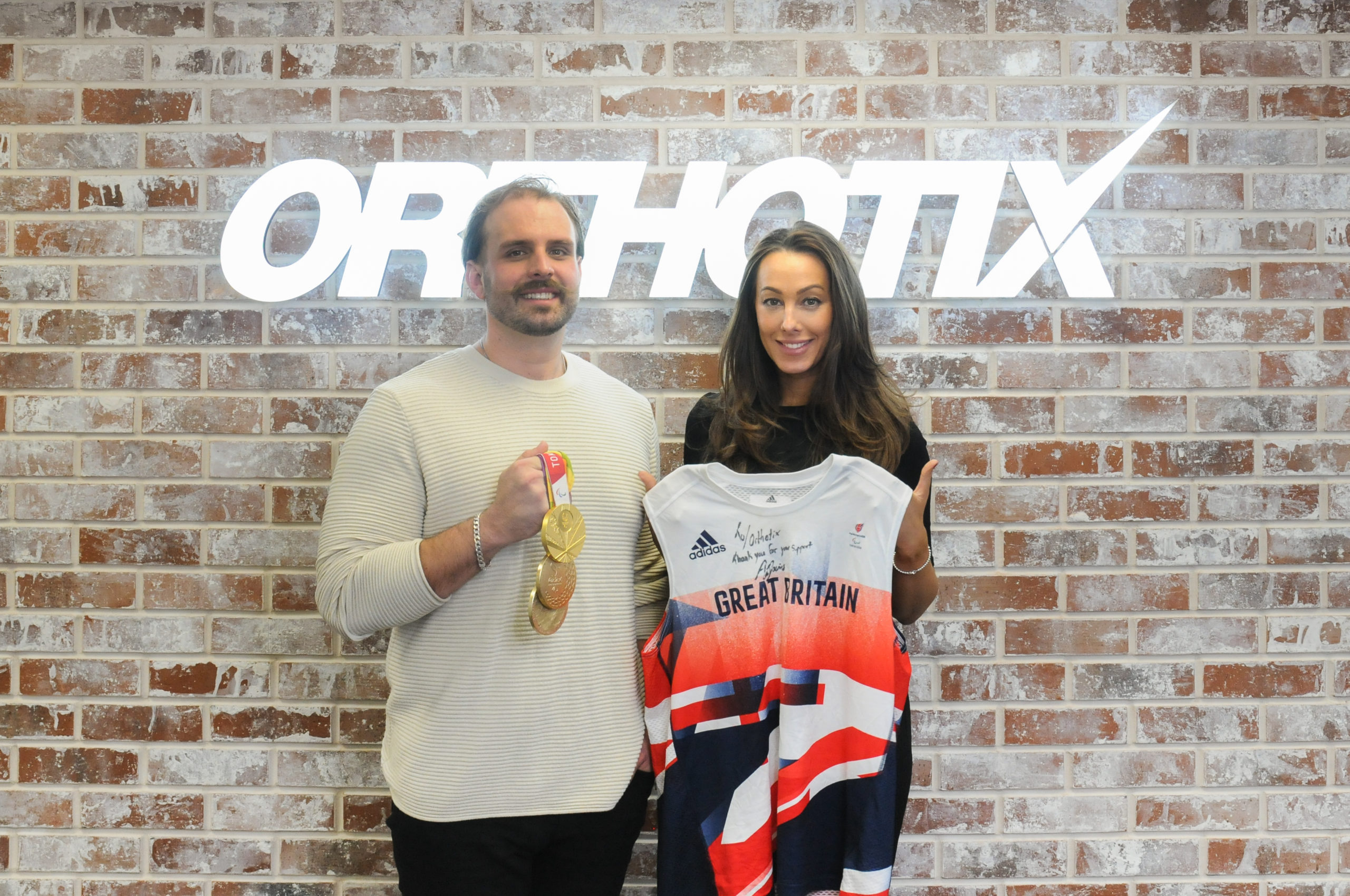 Hayley Huntley (Orthotix Co-Owner) with Aled and his three consecutive Paralympic gold medals
Orthotix & Aled's Brand Ambassador Role
Drawing parallels with Aled Davies in certain respects, Orthotix also flies the flag for Wales in a highly competitive international arena. The market leading Welsh business supplies orthopaedic medical products to NHS hospitals, sports organisations and healthcare businesses across the UK. It also focuses on supplying its medically approved products direct to consumers via local walk-in clinics and nationally via online platforms. Having already established official supply partnerships with an impressive roster of elite sporting brands such as Cardiff City Football Club, Welsh Athletics, Disability Sport Wales and Celtic Dragons Netball, the formation of a brand ambassador role was deemed the next step in the firm's ambitious marketing strategy.
"We are continually striving to improve public accessibility to affordable class 1 medical devices for a wide range of orthopaedic conditions and injuries. Partnering with a national treasure like Aled who's globally recognised will help us raise our business profile and expand our reach. The way Aled has overcome such adversity in his life epitomises our Orthotix brand and our company mantra – supporting your wellbeing"
Aled Davies OBE, Multiple Paralympic Gold Medallist and Celebrity said:
"Orthotix have supported me for as long as I can remember. They have enabled me to confront challenges, realise my ambitions, and achieve success at the highest level. The products and services provided by this amazing business have been life changing for me and many others…
… I'm extremely proud to become the official brand Ambassador

 

for Orthotix and look forward to giving back to this fantastic family-owned business over the next 3 years."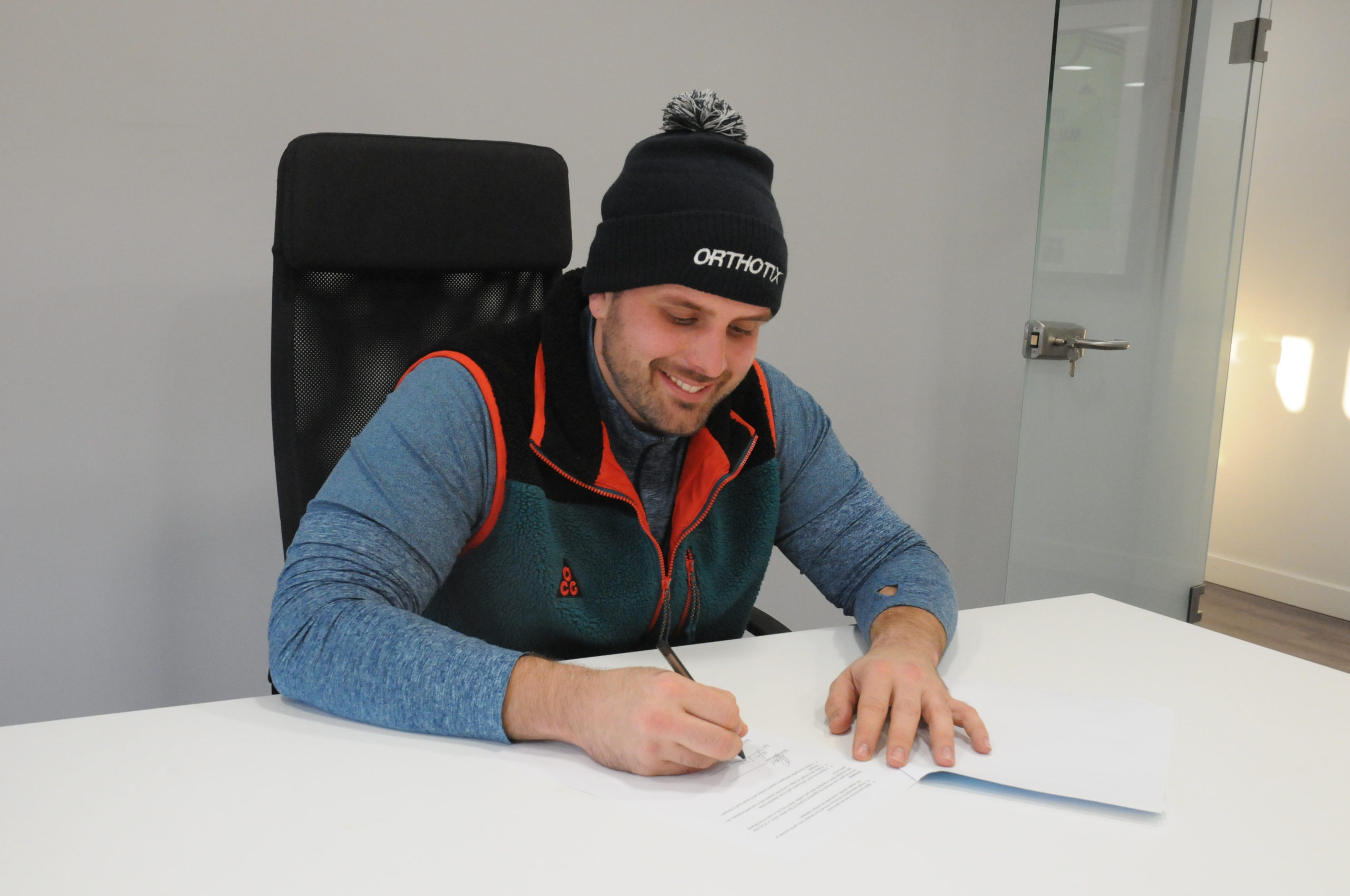 Aled signing his Brand Ambassador partnership agreement with Orthotix.