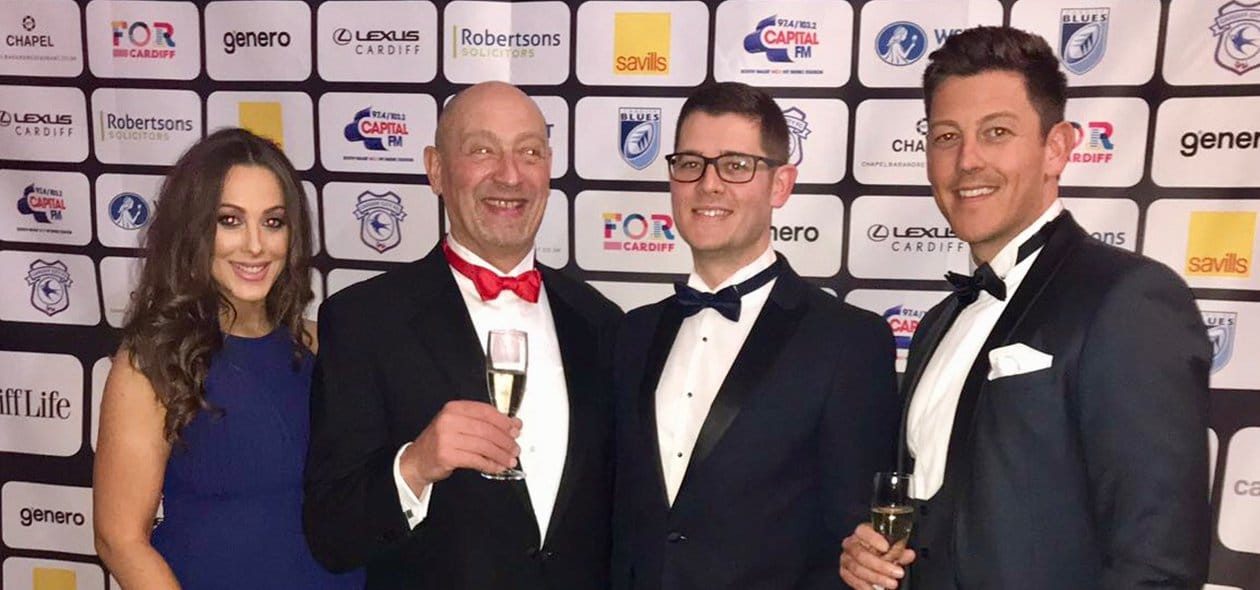 Parts of this article are included in a national NatWest Bank feature which focuses on six UK family run businesses and how they succeed working together.
Read the NatWest story at: http://natwest.contentlive.co.uk/content/339446be-fa5b-a4c3-abd6-54cecb784c60
Introduction

The Cooper family have been in business since the inception of their holding company Dacey Ltd  in 1972. The third generation of the family are now directing two of the three businesses in their portfolio, namely Ace Feet In Motion and Orthotix Sports & Orthopaedic Bracing.
At the tail end of 2017 they were awarded the Welsh SME family business of the year and earlier this year they also scooped the Cardiff Life Award for Best Health & Wellbeing Business in Cardiff.
Brothers, Paul (35) & Tom Cooper (34) share their thoughts below, providing an insight into life as Directors in their family business.
1. Did you always think you'd join the family business, and what's it like working with your father?
From an early age my brother and I both wanted to be involved in the business which we'd seen our grandfather run and eventually pass over to our father. Growing up we were always around them in work and even as children we lived through the highs and lows of the business as part of our family life.
We both went to University and obtained relevant degrees so that we could have credible pathways into the business and when our father invited us to join, we felt obliged and excited to carry on the family tradition and put our shoulders to the wheel.
As family members in business with over 100 staff there is an air of nepotism and an undeniable expectation to perform above and beyond your colleagues, but this serves as motivation for us and has contributed to the successes we've achieved to date. Achieving success together as a family unit in business is one of the most satisfying and rewarding feelings.
2. What's been your biggest learning curve in business?
I think the biggest learning curve for us has been the concept of introducing 'change' in the workplace and how to manage our workforce's perception of it.
Over the years we've had to make changes to our working practices, company policies and introduce technology across our operation to improve efficiencies and remain competitive in our marketplace. This has repeatedly been met with pockets of resistance amongst of our workforce. Comments such as 'but we've always done it this way' or 'this will never be as good as the old way' have been recycled many a time.
Ultimately, you don't have a business without the workforce so it's vital that when change is necessary, suitable steps are taken to ensure that they can embrace it such as re-training, re-assurances and clear communication channels.
3. What are the benefits of working with your family?
We have unequivocal trust in each other and the comfort that comes with this loyalty is so reassuring as you know that you are all working for the same common goal and in it together come rain or shine.
Working alongside our father for the last fifteen years, just as he worked alongside his father-in-law previously, has enabled us as a third-generation management team to gain a wealth of experience and invaluable business acumen that we would never have picked up on our own.
4. What are the challenges to working with family, and how do you solve them?
We've encountered a couple of reoccurring challenges, typically generational differences and maintaining separate work/family relationships with each other.
The introduction of digital marketing, social media and online selling platforms have transformed our business, but when we initially sought to invest our time and money in these areas it was met by initial scepticism from our father. My brother and I became frustrated and had many heated discussions with our father about how our business needed to rely on more than just 'word of mouth', before he finally gave us the green light.
When frustrations do creep in it's imperative that you have a coping mechanism to ensure that you can separate professional work life from family life as relationships could sour quickly! Our golden rule is that we only discuss work issues whilst we are in work and we leave any ill feeling at the door when we go home
5. How do you plan for the future?
Successful planning for the future in our family business is all about open dialogue. As our father approaches retirement age, he'll go through a pre-negotiated exit plan, which will see us remaining family members and management team take control of the business.
We've all expressed how we want to keep the legacy alive and hopefully this will involve our own children at some point in the future should they wish to follow in our footsteps and run a fourth- generation family business.