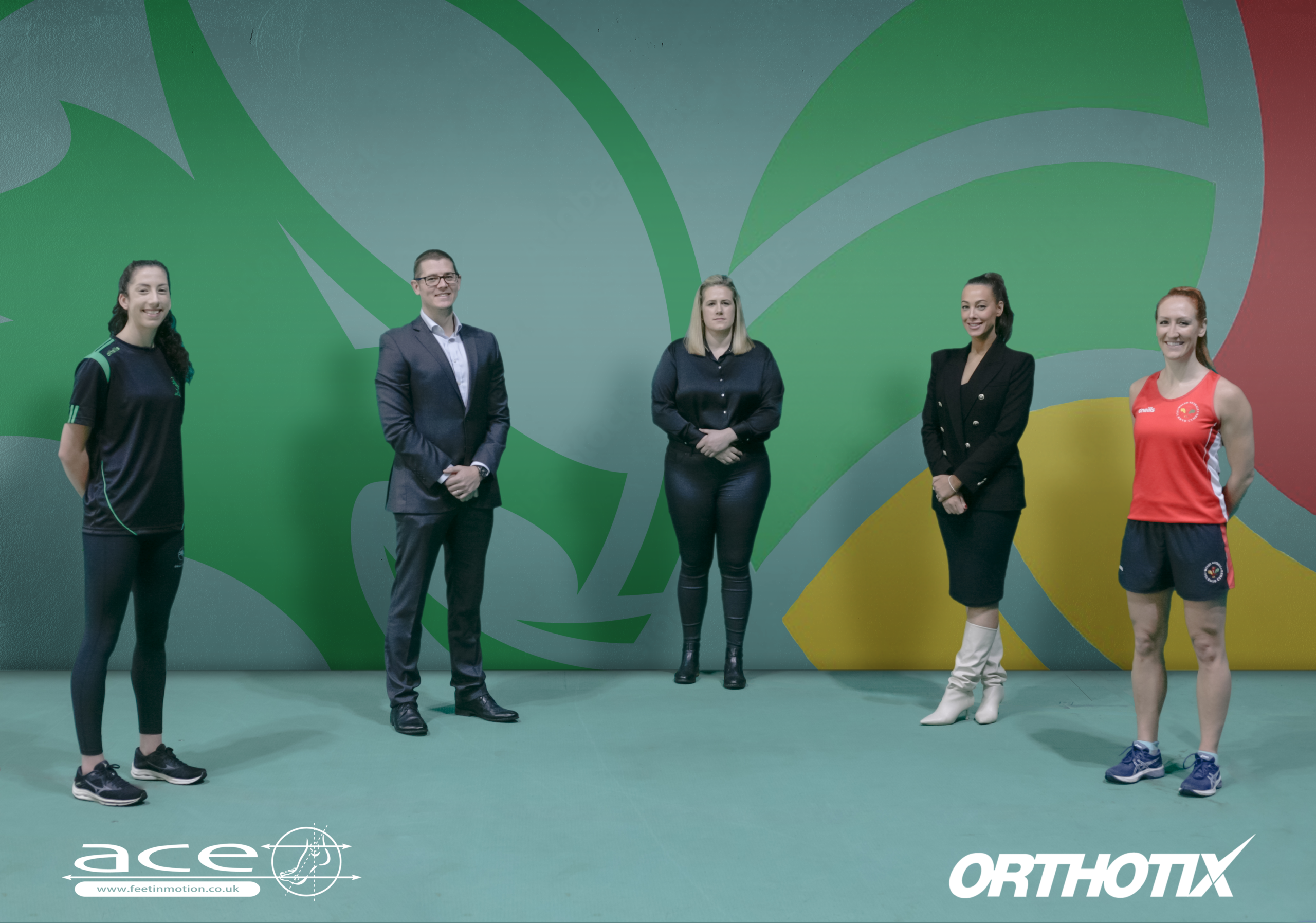 Hannah Leighton, Tom Cooper (Managing Director of Ace Feet in Motion/Orthotix Co-Owner), Vicki Sutton (Wales Netball Chief Executive Officer), Hayley Huntley (Managing Director of Orthotix and Co-Owner), Clare Jones
The extended agreement sees Wales Netball & Celtic Dragons remain amongst an impressive roster of elite sporting brands who have partnered with Orthotix in recent times, to benefit from the market leading medical products and services uniquely offered.
Orthotix are delighted to announce that they have extended their exclusive partnership deal with both Wales Netball and the Celtic Dragons. This will see the Cardiff based business continue as the official supplier of sports injury bracing and orthopaedic supports until 2024.
The Celtic Dragons franchise is based in Wales and has been part of the Netball Super League since its inception. As the only Welsh team in this prestigious league, the Dragons combine the finest players from all over Wales with a mix of international talent. The popularity of the sport is surging and with matches now being showcased regularly on Sky Sports, it's reaching an even wider spectatorship than ever before.
Welsh Netball Chief Executive Officer, Vicki Sutton, said:
"I am delighted to be working with ACE Feet in Motion and Orthotix for the foreseeable future."
"I look forward to another year of Ace and Orthotix keeping both our Welsh Seniors and Celtic Dragons athletes in peak physical condition as the Vitality Netball Superleague Season continues and as we draw closer to the Commonwealth Games."
"We are pleased to be continuing our partnership with Wales Netball & Celtic Dragons… it's been a pleasure to work alongside them over the last four years and we are excited to see what both teams have in store for us in the upcoming competitions. Win, lose or draw, we'll be supporting them every step of the way"
The renewed partnership will allow Wales and Celtic Dragons athletes to benefit from expert clinical services and specialist sports medicine bracing for the duration of the Vitality Netball Super League and preparations for the qualification of Commonwealth Games and Netball World Cup in 2023.