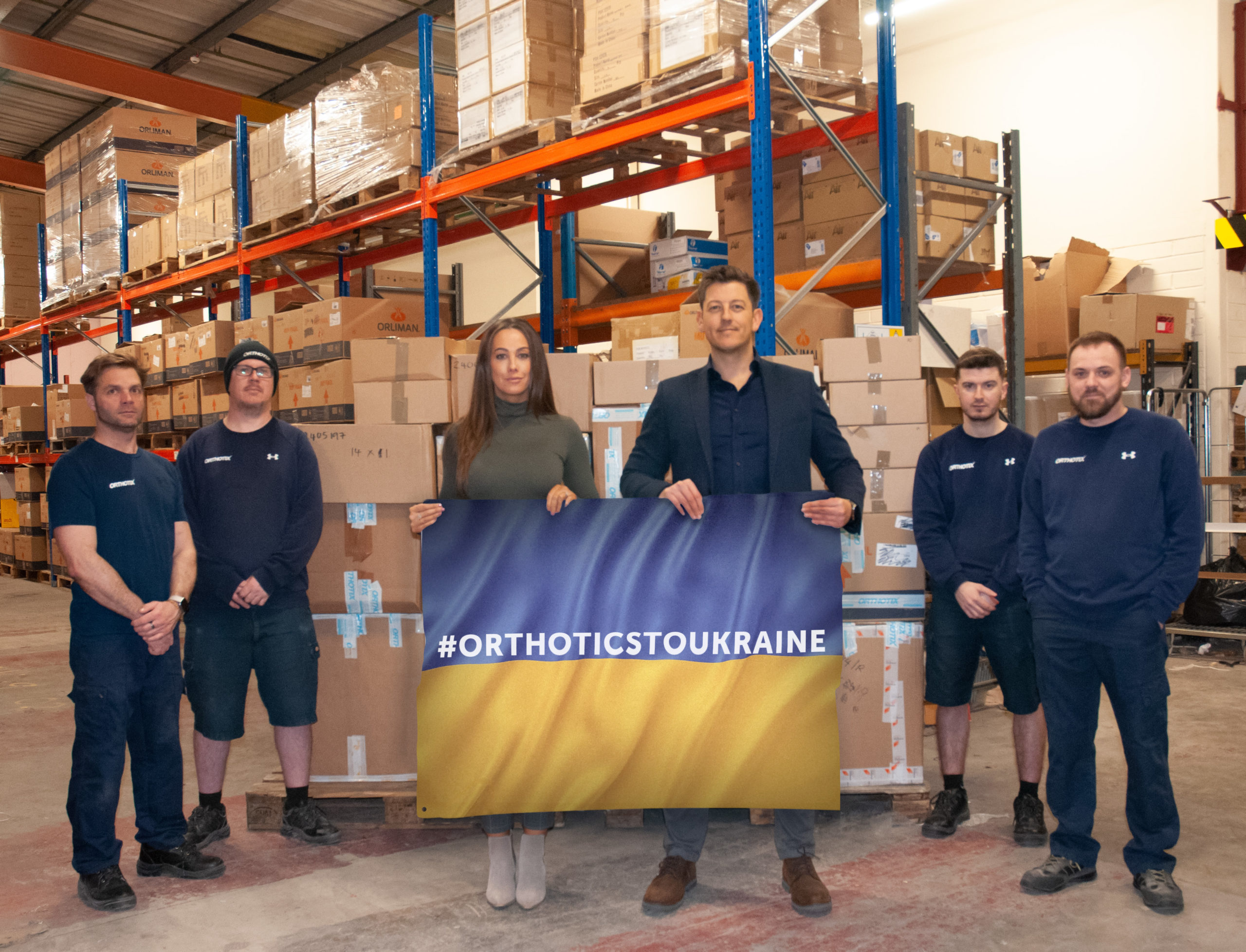 Orthotix Warehouse team & Co-Owners Hayley and Paul with their Ukraine-bound donation of medical devices.
Over the last fortnight we've all watched in horror as the events in Ukraine unfold. It's clear that an escalating humanitarian crisis is unravelling in front of our very eyes. It's humbling to see the response of those countries bordering Ukraine and the way in which they are reacting to the needs of tens of thousands of refugees, offering; shelter, food, both medical and psychological help, as well as transport to accommodation in ordinary people's homes.
Having had ongoing dialogue with an industry contact on the ground in Ukraine, it's clear that there is now a national shortage of medical related products and medical devices. Our Welsh orthotics business Orthotix is well positioned to assist with product of this nature, so we've rallied together with Brace Orthopaedic who've utilised their European logistical network, to open an emergency supply chain to a major hospital in Ukraine. The hospital has confirmed that they need all forms of trauma related orthopaedic braces, splints and supports for all body parts. All products will be taken to Poland and handed over for onward transportation into Ukraine.
Today, we have donated a £10k consignment of orthopaedic and trauma products, which Brace Orthopaedic will now add to their existing donation portfolio before transporting. Every product will find its way to a patient in need in Ukraine in the coming days. This small gesture will not be enough, so please share this information across our industry, as we look to raise awareness to find additional contributors for what looks to be an ongoing requirement.
Brace Orthopaedic are looking for further donations of this kind to transport, so if you have appropriate devices and can help, please message:

[email protected]

#orthoticstoukraine #standbyukraine