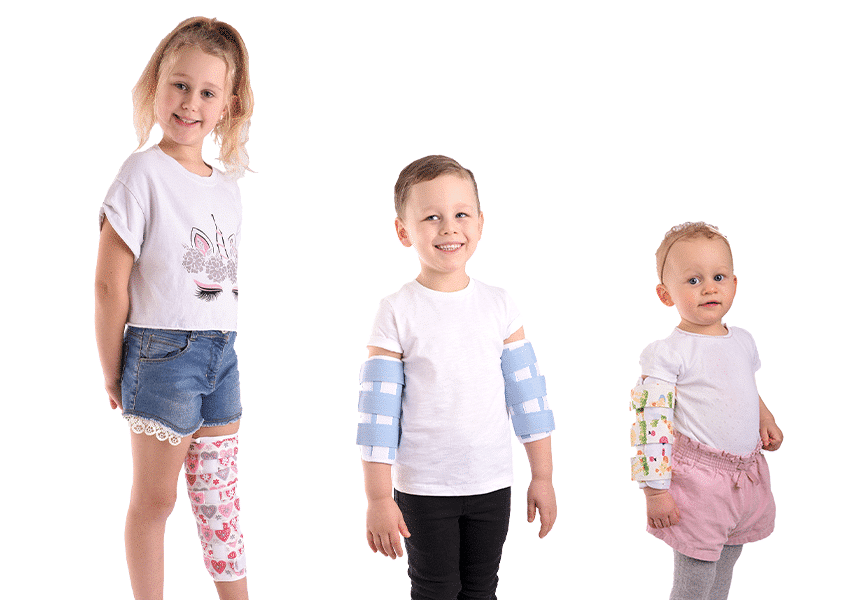 In addition to our existing modular arm/leg gaiters and the Dacey bespoke variants we offer, Orthotix have now launched a new paediatric stock gaiter range, branded OrthoGaiter®.
This new off-the-shelf range has been developed over the last 12 months in association with leading UK paediatric physiotherapists and our own inhouse team of Orthotists.
Learn more about this exclusive new product range below.
The range is available next working day from our online store.
Contact our Customer Service team if you are an NHS trade account and would like a sample.
What is an OrthoGaiter®?
OrthoGaiters are approved class 1 medical devices developed by leading UK Healthcare Professionals and used to maintain the arm or leg in full extension.
OrthoGaiters include two semi-rigid wraparound fabric garments specifically designed for effective immobilisation or support of paediatric limbs. They are indicated for use with a variety of conditions from post-fracture injuries to juvenile rheumatoid arthritis.
OrthoGaiters are simple but effective orthoses available in an easy-to-fit size range featuring colourful fabric patterns options, immobilising stays and padded interior comfort linings.
OrthoGaiter® Features & Benefits
Accommodating wraparound design for improved fit

Multiple hook and loop fastening straps for adjustment

Available as a pair in simple off-the-shelf sizing range from XXS-XL

Available in repeatable fabric patterns suitable for all ages

Deluxe interior padding for enhanced comfort

Integrates flexible medial and lateral stays which contour to anatomy of limb

Integrates a reinforcing posterior rigid stay for optimum immobilisation of limb

All stays are interchangeable and removable

Machine washable for hygienic use (once stays removed)
Indications For Use
OrthoGaiters can be used for any condition where maintenance of knee or elbow extension is required.
They can also be used for control of range of motion in contracture management, post-surgery, joint support during rehabilitation, or in the prevention of self-harm. They are suitable to be worn during the daytime or overnight.
Instructions For Use
Fully open the OrthoGaiter, undoing all hook and loop fastening straps

Carefully straighten the limb and wrap the OrthoGaiter around ensuring the narrow part of the gaiter is in line with the wrist or ankle

Ensure the flexible medial and lateral stays are located either side of the limb with the reinforced stay positioned posteriorly (All stays can be contoured or removed as required)

Ensure that the 'fly' is flattened out beneath the overlapping edge and wrap the hook and loop fastening straps around the arm/leg to secure appropriately

The OrthoGaiter should be a comfortable garment to wear against the skin or over clothing and it should not restrict circulation.
The OrthoGaiter is the first of many new products that have been developed by Orthotix over the last 12 months. The release of the latest 6th edition catalogue has been delayed until January 2021, but this will eventually showcase all the innovative new products we can now offer. More news to follow on this later in the year, stay tuned!